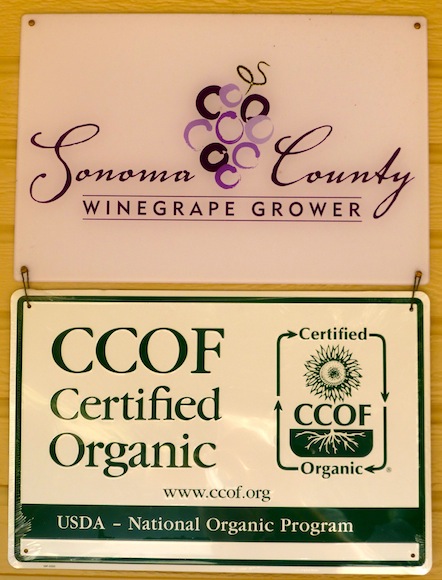 I just received my CCOF Certification!  Only 3% of the grape growers in Sonoma County are certified organic, so I'm joining an elite group.  In addition, Turtle Vines is probably one of the southern most vineyards in the Russian River Valley, which makes it much more difficult due to our propensity of fog.
In short, what did it take:
– Growing organically for 3 years
– Keeping accurate records of the fertilizers and sprays used
– Filling out a 30 page application
– Getting audited
– Paying $900 in first year fees and about $400 thereafter
– Registering with the California Department of Food and Agriculture
Would I do it again…for sure. Healthier for me, the soil and the grapes.
Has it been a challenge…yes. Probably sprayed twice as often at a much higher cost per spray, and your options if things go wrong are much smaller
What did I learn…You have to plan more in advance and perform more research on how to solve issues. I think this is good farming and better for my brain.
Lastly, for all of my high tech friends…was this as tough as ISO 9000/14000?  I don't think the paperwork or audits to be Certified Organic are difficult, but you have to live being organic every day.