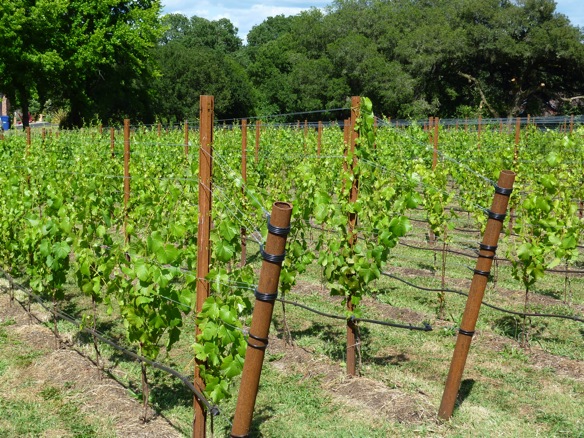 Clones
I have been watching very carefully the vineyard this year to tell if the vines are growing according to position in the vineyard, position in the row, clone or some other factor. I have concluded that it is a little of all of them.
– Clone 667 had a smaller rootstock when we planted it vs Pommard and the vines to this day continue to be smaller. I think each year it will be a smaller vine.
– Vines on that are planted next to a highway stake grow faster than the ones next to rebar due to the warming effect.
– Oddly enough, if the vines have some shade they seem to grow nicely.
– Vines where I gave them more compost in the planting hole are doing well now, will have to see when the roots expand to the soil.
– Vines that are on the downslope of the row seem to grow better. I don't know if it is because there is better soil or that the water will tend to go downhill.
– So far this year I have fertilized the eastern half of the vineyard only, but will do all 4 sections next week.
Work in June:
June 2/3 – 1 hour watering vines for 5.5 hours
June 4 – 6.5 hours – weeding, trimming and 3 hours putting on c-clips
June 5 – 3.5 hours – gophers, weeding, mowing
June 9 – 2 hours – gophers, weeding, watering 5 hours sections 1/2
June 10 – 2 hours weeding
June 11 – 3 hours – spraying37 gallons with 4 cups + 2 oz and watering sections 3/4
June 12 – 4 hours – 1.5 racoon/wood, 1 hour topping small vines, 1.5 hours weeding
June 18 – 2 hours spraying – 44 gallons with 1oz per gallon
June 19 – 2 hours setting up water system and watering all sections, it is now on a weekly timer.
June 25 – 2.5 hours weeding
June 26 – 2.5 hours weeding, 2 hours spraying – 44 gallons with 1 oz per gallon
June 27 – 2 hours weeding, 2 hours mowing
July 3 – Spraying with 44 gallons
July 6 – Found mildew!!!
July 7 – 2 hours – Manual Spraying – 9 gallons @ 2% Stylet Oil
July 9 – 2 hours – Spraying with 1.5% Stylet Oil, 50 gallons
July 16 – 2 hours – Spraying with 2% Stylet Oil, 50 gallons
July 23 – 2 hours spraying with Seranade
July 24 – 1.5 hours walking vineyard for mildew
July 25 – 1.5 hours walking vineyard for mildew
July 26 – 1.5 hours walking vineyard for mildew