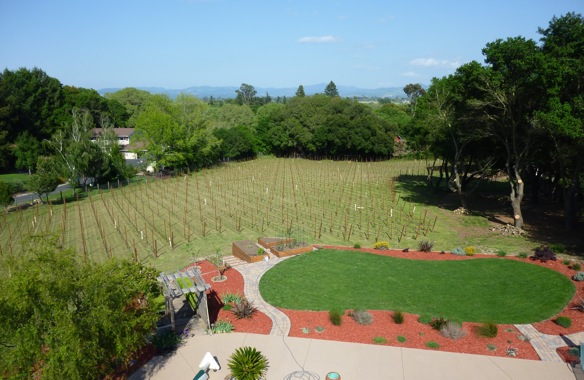 Most people think that when you have an organic vineyard you don't use chemicals. Not true. You just use organic chemicals ….. and keep good records of what you put on the land. In my Santa Rosa JC class this week a speaker outlined what to use. For Organic materials you have to use them about 10 days apart as they are not as strong as conventional materials. The following is used for mildew/botrytis.
Stylet Oil with copper
– Sprayed for 2.5 hours on 4/27. Sprayed a total of 20 gallons of a 1% Stylet Oil and 15 tsp of Nordox copper.
Micronized Sulfur (2X)
Stylet Oil with copper
Sonata and alternate with Seraonade (5X total)
If you find other bugs like European Grape Moths (in the trap the county put on our land above) you have to spray for that also.
By the way, I found out this week that when you put hay on for winter to prevent erosion, it does not have to be organic. Didn't know that until Thursday.