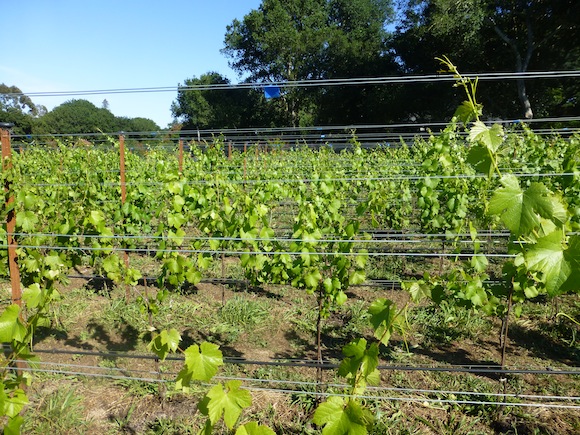 I have learned a lot about Pinot noir by having different clones. The Pommard Pinot noir clone on the west side is very vigorous and seems to grow great. The 667 Pinot noir clone on the east side is not very vigorous and has seemed to struggle since we planted it in 2010.
In many cases a vine that struggles a little is an advantage. If you don't have a big canopy, you do less work thinning shoots and leaves, and you have less chance of powdery mildew. In a lot of cases it will produce great wine as you want your red wine to struggle to bring out great flavor.
Well, in the case of about 250 vines, the struggle is a little to much and I have resorted to applying organic fertilizer by hand to those vines to help them along. First I marked the ones that were weak (not yet to the second wire) with blue masking tape. Then I lifted up the weed cloth and put 1 pound of Dry Crumbles (organic fertilizer) under the weed cloth and then covered it back up. When we water later in the month it will dissolve and help the vines.
Since it is organic fertilizer, won't know for a while if it works, but it can't hurt.