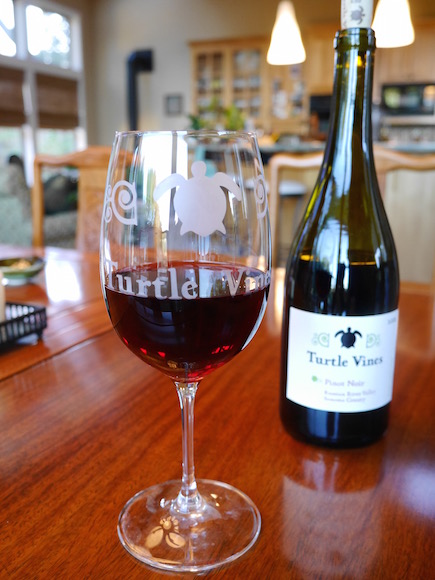 Turtle Vines – Fall 2015
Greetings from Sebastopol!
California in the News
With much of California suffering from drought and fires, we feel quite fortunate to be in Sebastopol. Although the "Valley Fire" just north of Calistoga is a little over an hour away, we were never in danger. Our thoughts and prayers go out to the many fire victims that have lost their homes and belongings.
Although California has been in a drought for four years, the aquifer that supplies our home and vineyard is pretty full. Of course we are doing everything to conserve, like letting our beautiful lawn die, so that we can save what we need for our crops. The way we farm, our grapes use very little water.
Harvest
2015 was our 4th harvest and vintage. Where does the time go? Unusually high temperatures in the spring produced a very early "bud break". This was followed by a month of cool and damp weather. All this resulted in very small berries. The good news is that small berries make great Pinot because of the increased skin to juice ratio. The bad news is that it reduced our anticipated tonnage by 55%.
Grape Sales
Besides making and selling Turtle Vines wine, we also sell some of our grapes. This year we are happy to announce our relationship with Hanzell Vineyard, one of the pioneer wineries in Sonoma County. In fact, they have the oldest continually producing Pinot Noir and Chardonnay vineyards in North America! Our grapes will go into their non-estate Pinot Noir that will be available nationwide at select high-end restaurants in a few years.
2013 Turtle Vines Pinot Noir
We are very pleased to announce the release and immediate shipment of our 2013 Russian River Pinot Noir. 2013 was a wonderful growing season with a warm but not hot summer, followed by a cool and dry fall that was perfect for Pinot Noir fermentation. We could tell this was a special vintage at harvest and it continues to get better with age. The wine is smooth and fruity and finishes with a hint of acidity, typical of Russian River Valley Pinots.
Here's how the Prince of Pinot describes our 2013 Pinot:
The Prince of Pinot: 88-89 Points "Moderate light cherry color in the glass. Aromas of red cherry, spice, and Herbs de Provence. Light in weight, but flavorful, with a good mid palate attack of cherry and raspberry fruits complimented by a hint of oak. Light on its feet and easy to cozy up to, with a refreshing cut of acidity on the finish."
How to Buy
We are offering the 2013 Turtle Vines Pinot for $38 per bottle. Shipping is free with an order of 6 bottles or more. Buy a case and, in addition to free shipping, you will receive a Turtle Vines Collectors edition dish towel.
We still have 4 cases left of our 2012 Pinot offered at $34 per bottle with the same shipping and towel offer.
Other News
Our Turtle Vines 2012 and 2013 Pinot Noir, as well as our 2014 Sauvignon Blanc was selected by Eight Restaurant of Sebastopol for their "Wine Down Wednesday" this summer. It was a fun event and gave us a chance to showcase our wines. (See picture below)
Due to limited availability, our Sauvignon Blanc is no longer available for direct sales but can be enjoyed at Muir's Tea Room in Sebastopol, while supplies last, along with the 2013 Pinot Noir.
Doug and Joanne Williams
www.turtlevines.com
408-209-8745