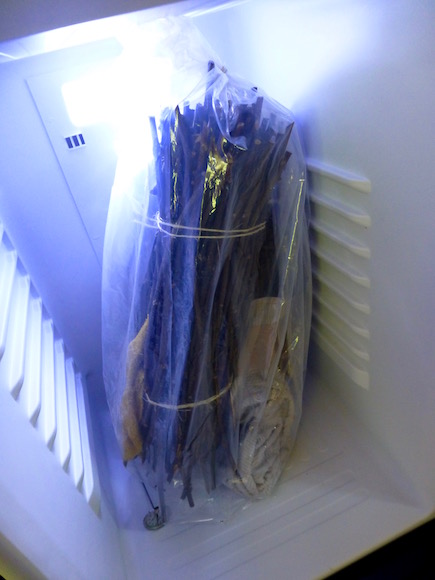 Why am I posting grafting?  We just planted our vineyard in  2010 with 3130 Pinot Noir vines…or so we thought.  Nurseries, like anyone else, make mistakes.  Of the 3200 vines we ordered, we ended up with 50 Merlot's, 7 Chardonnay and about 23 vines that the graft didn't take.  You can't tell any of that until you have fruit on them 2 or 3 years later!
In 2012, our 1st fruit year, we ended up putting the Merlot into the Pinot Noir since we could not tell the vines apart. For 2013 made the Merlot into Jelly.  In 2014 we made a little Merlot and the picking crew cut the rest off before I could stop them.  Lastly, in 2015 we left the Merlot to ripen for an extra 3 weeks and it is now getting ready to bottle in a few months…and it tastes great!
So why are we grafting them over the Pinot Noir?  Since they ripen at different times than the Pinot Noir and the 50 Merlot are scattered in the vineyard with 3000 other vines, they are a pain to keep separate.  You have to mark them, leaf differently, and keep them netted longer.
So, we will lose a year of production on those vines…but they would not have been used anyway.
How do you do graft?
First you have to mark the vines you want to graft over
Next you have to obtain budwood…in our case, when we pruned the vines we collected the canes and cut them into 4 bud lengths.  We then bundled them up, put them in a plastic bag and will refrigerate them until we graft in March.  (see picture above)  Keep them around 34-36 F but don't freeze them!
For the rest of the Grafting process…tune back in mid-March