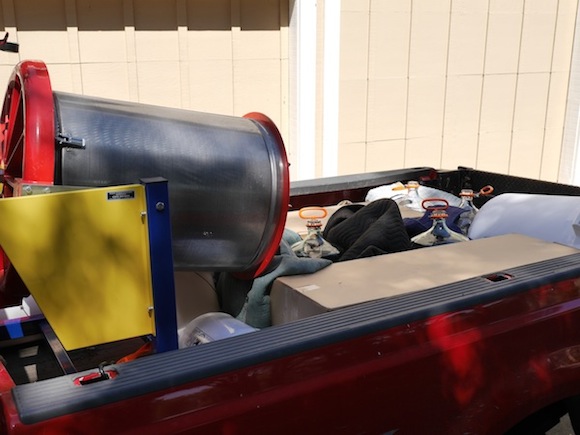 I have not posted in a while, so I'll give you a little update on how our 2013 Pinot Noir crop is shaping up.
Three weeks ago we finished veraison so the nets went up to prevent the birds from getting our crop.  Only took 5.5 hours this year top put them up…better than 9 hours last year.
Sunday Joey and I took brix (sugar) readings throughout the vineyard.  As expected the vines closest to the house averaged 20.4 and the ones furthest away were at 19.3.  We expect to pick when the brix reach 23…so around September 16th!
Now the fun part…as you can see from the picture, we bought a small bladder press.  The capacity is 42 gallons, or enough for 1/2 ton of fermented Pinot Noir, or around 400 pounds of Sauvignon Blanc.  In addition, we bought 2 thirty gallon breathable tanks for aging, and some 5, 3 and 1 gallon glass containers.  Next up is to get a destemmer and a few smaller items and we will be set to make wine this year!