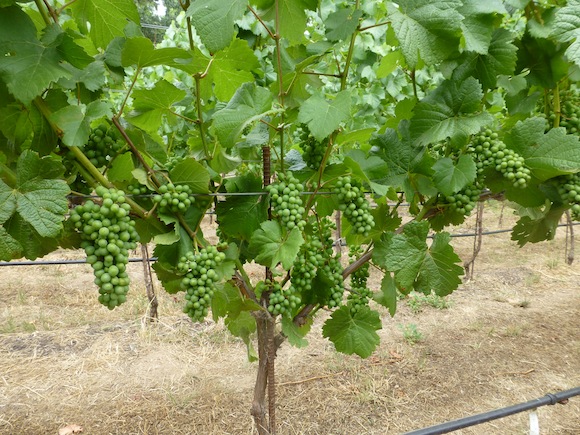 Botrytis is a fungus that infects grape shoots, flowers, leaves and fruit.  If your vineyard gets this fungus, think of a moldy melon, yuck!  Why am I worried now?  The spread of the fungus sportes is aided by summer rains, heavy dew and juice from split berries.  The popular song…"it never rains in California"… is normally correct for Sonoma County.  However, a rare storm is heading our way and will drop 1″-2″ of rain on the vineyard.  Now I have to worry about Botrytis.
What can be done to prevent Botrytis?
– Have grapes that are not tightly packed. Sauvignon Blanc (see pictures) has a loose cluster but Pinot Noir (see picture) is a tight cluster grape, bad.
– Remove excess shoots and leaf around the cluster to get good air flow – done!
– Organically spray with Stylet Oil, Serenade Max or Sulfur right after it rains. I will do this Friday. Hope it is not to late.
Well the good news is that I needed the rain…the bad news is I may get botrytis in addition to driving potassium into the berries since we are between set and veraison. Lastly, if you look at the Sauvignon Blanc pictures…we will have a great crop this year!!!