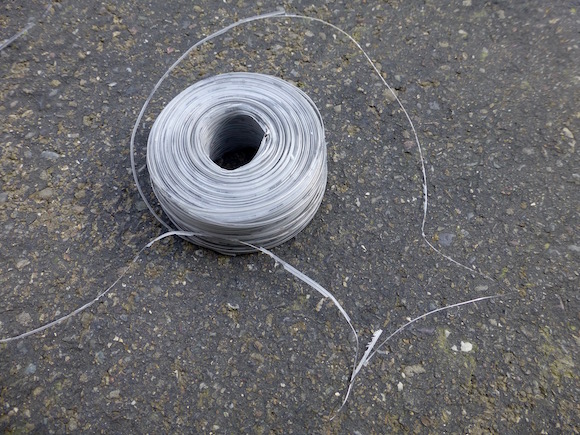 Just a quick post on vine tying and buying the correct wire.  Two years ago a friend of mine and fellow winemaker, John Mason,  invested in a Pellanc Tie Tool. Has made tying vines to the wires much easier.
When you tie vines you need to pick out the correct wire.  Tie wire for the Pellanc comes in 4 grades based on how long it will last in the field.  For cane pruned vines you only want the ties to last 1 year and then be able to pull the canes from the wires easily.  I used the second softest grade of wire, the first softest tends to jam in the tool.
I learned an obvious but good lesson this year.  Since the wire is designed to fall apart after 1 year, get new spools every year.  What you see above and in detail below is the tie wire that I left in the tool since last spring.  Notice how the cover has come off the wire.  I didn't change the spool and it jammed and didn't work.  Took me about 15 minutes to realize why….duh, you need a new spool, the old one is doing what it was designed to do, fall apart after a year!  Good thing I only had one spool leftover from 2015.  FYI…I will use 9 of these spools in my boutique vineyard and take me about 12 hours to tie.