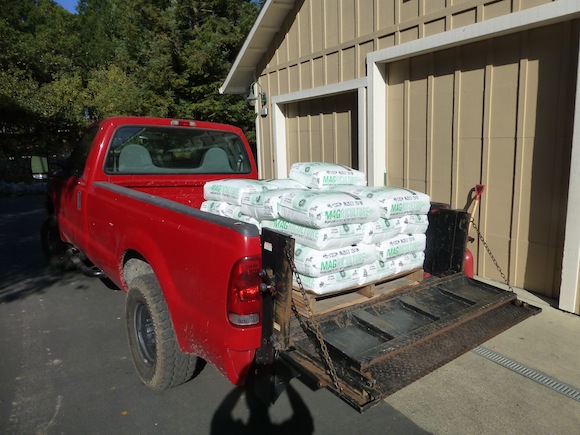 If you have been reading the blog, you will know that the Pinot Noir harvest has been a little high in  pH.  This was due to 3 reasons: young vineyards normally have high pH's; watering between set and veraison will cause the vines to pull up potassium from the soil; if the soil does not have the correct ratio of Calcium/potassium/magnesium of around 6/1/1 with more potassium than magnesium, the potassium will be pulled into the berries and raise the pH.
Our 2012 Pinot Noir harvest resulted in a pH of 3.9 and potassium level of 2100 ppm.
Our 2013 harvest resulted in a pH of 3.76 and potassium level of 1700 ppm with 1 year of growing and limiting the water from set to veraison.
For 2014 we are adding 1/2 pound of Organic Epson Salt per vine.  The Epson Salt will add magnesium level close to the potassium level.  Hopefully this should reduce the uptake of potassium.  In addition, we are installing an extra drip hose for those vines that need water.  This will alleviate the need to water an entire row until it needs it.  This should help the potassium level as well as enhance the flavor of the grapes.
So…how is this done.   We purchased 1600 pounds of Epson Salt and will sprinkle this along the vine row.  When it rains this will quickly dissolve into the soil.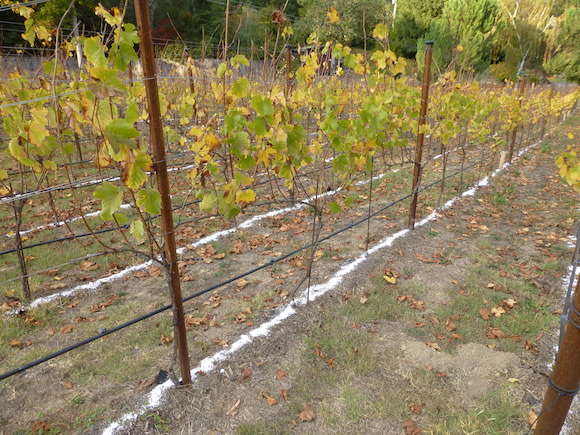 Let's hope it works well!  Only have to wait a year to find out…I'm hoping to get a pH of 3.55 for 2014, which would be perfect for my style of Pinot!