A week ago on Sunday 6/11/17 we were thinking that June has been a cool month and it looked line rain.  Well, later in the afternoon we had hail!  This is not an unusual occurrence in many parts of the country, but for us in Russian River Valley, we don't even get much rain in June.
Now a week later we are having a heat wave.  It was 97 yesterday and will be 96 today.  The next 5 days look to be 96, 89, 92, and 95!!!  We don't get this kind of heat in August.
So, is the vineyard OK?  So far…the picture below shows we still have green grass between the rows.  It is looking to be a good year!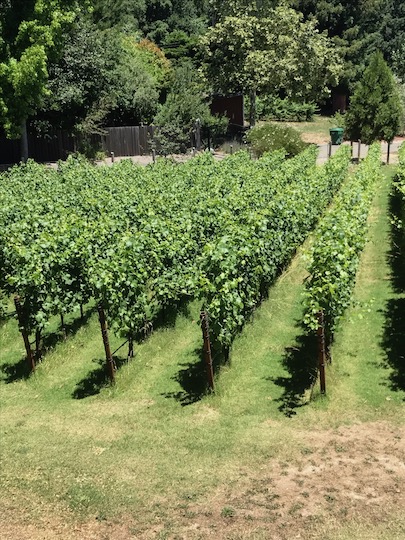 Just so happens I was speaking to someone this last week about climate change and the subject of "The earth is cooling" from the 70's came up.  So I decided to do a little research and looks like those research papers assumed we would increase sulfurs in the air by 4X.  But…we changed regulations and the greenhouse gases have taken over…so, I do believe in climate change and now can understand the "cooling" argument from the 70's.  Check out my link above for a little information.