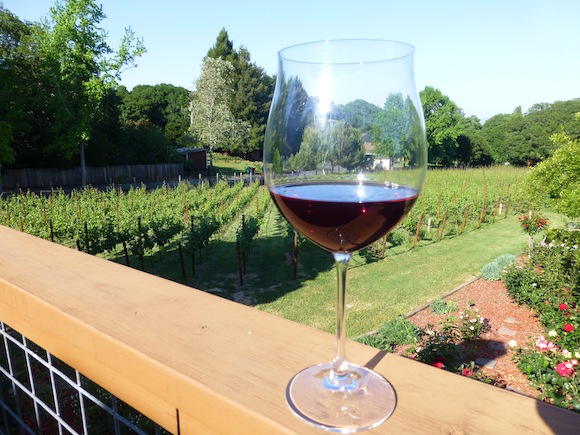 This was a very big day for Turtle Vines…we were inspected for CCOF (California Certified Organic Farmer) this morning, May 28th, 2013.  There were a few minor items I overlooked and he found, but I'm hoping in 4-6 weeks we will be an officially Certified Organic Vineyard.  There are only 3% of the vineyards in Sonoma County that are organic, so this puts us in good company!
So what does it mean to be Organic?
– We are limited in the chemicals we can spray on the vines to safer, non-toxic liquids to combat mildew and insects. It also means we need to spray more often as the chemicals are not as effective. This means you have to be a better farmer in watching the health of the vines.
– It also means the fertilizers you use are less concentrated, so it you want to "juice" the vines to get them back to good health, you have to plan way in advance.
– You can't spray Round-Up on weeds in the vineyard. In our case we put 2 miles of weed cloth with mulch on top to reduce weeding in the vine rows. Most vineyards use Round-up and a pre-emergent to control weeds. Just look under the vines and if you only see dirt and not weeds, in most cases it is not organic.
– For us organic is more expensive in the short term, but the soil is much healthier in the long run.
– The good news is I feel much better about the health of the vines, the health of the environment in the vineyard and my health spraying!!!