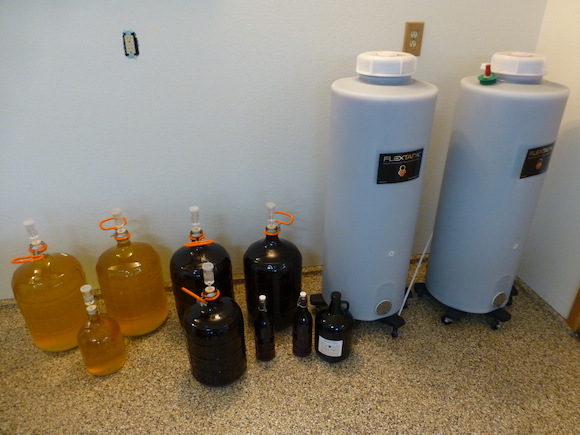 Our 2013 Sauvignon Blanc and Pinot Noir are enjoying the cold temperatures here at Turtle Vines. Not like the rest of the country, but cold enough for wine!
A lot of people ask…"What do you do in the winter?"  Well, you need to rack off the dead yeast (lees), check pH and acidity, determine if secondary fermentation is complete, sulfur the wine so it does not go bad…and of course taste the wine and make sure something "funky" is not going on while you weren't watching.  Right now we don't have all the equipment for testing, so we are sending it to a lab…here are the results and the actions we took.
By the way, did a blind tasting of our 2013 Sauvignon Blanc vs 2011 Matanzas Creek Sauvignon Blanc and even as ours is only 3 months old 3 of 4 people preferred it!
Sauvignon Blanc
Alcohol – 12.7%
TA – .375 … sulfured to 0.6 g/100ml
pH – 4.1 … will come down to around 3.9 after acid addition
Sulfured to 60ppm
Malolactic Complete
Pinot Noir
Alcohol – 13.9%
TA – 0.465 … adjusted to 0.55 g/100ml
pH – 3.95 … will come down to around 3.85 after acid addition
Sulfured to 75ppm
Malolactic Complete