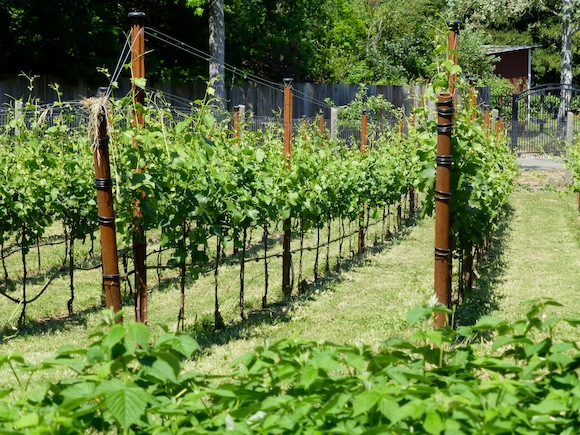 The photo above is Turtle Vines on May 2, 2013. As you can see we have weeded, thinned the shoots, and moved the wires for the first time. Next up is to arrange the shoots so they all are growing up straight and tall with plenty of room between them. This takes a lot of time walking up and down each row and attaching c-clips to the wires. But when it is done, there is not a prettier site in the vine world, OK…maybe seeing flowering a few days ago. (oh, and on the bottom of the picture is our patch of raspberries. They grow like crazy as I think we have at least 5 times as many canes as last year.)
We had an amazing Wine Country day last Saturday, May 27th, 2013..
Our friends Bill and Lauren invited us to the annual Hafner Winery spring party for loyal Wine Club Members. We had never been there, but it was set on a hill in Alexander Valley surrounded by 150 acres. They started over 30 years ago and produce around 15,000 cases of estate grown wine. The most amazing thing is that the key jobs are all family members, three generations of them! Was a great time, good food and we came away with some great Chardonnay.
Next we stopped of at our favorite local winery, Graton Ridge. Art and Barbara are what Sonoma County is all about. They started this winery 5 years ago after having lived here their whole lives. They make award winning wines and make you feel special every time you walk in their door.
Lastly, we ended the evening at the Redwood Food Bank's Opening of their new facility near the Sonoma County Airport. This facility was 6 years in the making and is a charity we support. They feed and educate folks here in Sonoma County who can't afford to put food on their table every night. I was amazed that around 300 folks showed up to this charity event. They auctioned off bowls (we came home with two) and other larger items. The highlight was a fundraiser to finish their kitchen. It was so great to see that they raised $170,000 from most of the people in the room, including us.
If you ever come visit Russian River Valley from April to October, there is no shortage of events like this to occupy your weekends.