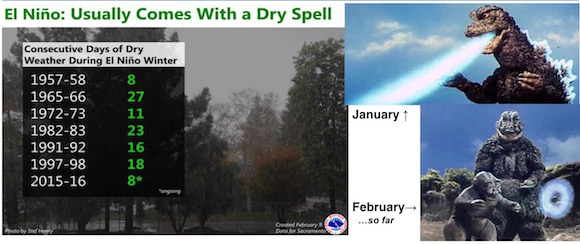 For those of you in other parts of the country having an arctic blast caused by El Nino this year and you wondered…must be a lot of rain in Wine Country.  Well…not so much.  We are a little under our normal rainfall total so far in 2016 and it has now been dry for 12 days (and counting) and it doesn't look much rain until the 23rd of February.  Good news is they are predicting a wetter than normal March.  Hopefully we get a lot of rain to fill the reservoirs and end the drought, but doesn't look like it.  At least for us in wine country, rain in March is great as it fills the soil with moisture that will last until July for the grapevines.
Good news – mid 70's here in February!
Bad news – soil will warm up and cause an early bud break!