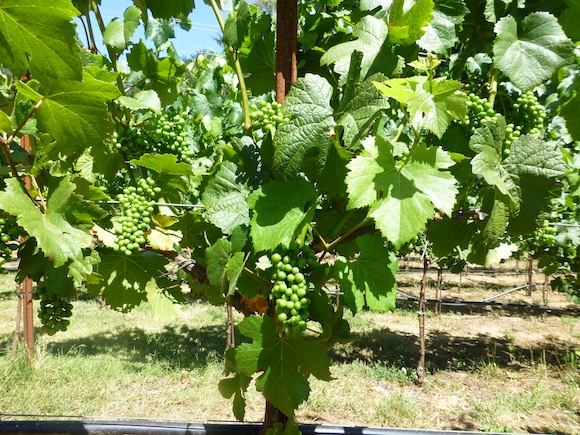 This is one of the nicer looking vines right now in the vineyard.  Below I put a close-up of the bunches.  You can see in the picture the berries have swelled and the bunch has almost closed up.  Very exciting!  What does this mean for harvest and how can we predict it?
In 2012 we harvested on September 23rd at a bris (sugar content) of 22.8.  This year I would like to be at 23.5 to give an alcohol content of a little under 14% but add more flavor. – add 5 days
– For 2013 our bud break and bloom were 3 weeks early – I don't have enough information on our vines to tell.
– Our Growing Degree Days are a week ahead of last year – subtract 7 days
– We have 4 times the grapes, but also more than 4 times the foliage as 2012 – subtract 7 days
– We had a dry spring, only 25″ of rain this season vs 45″ last year
So…our new estimate is September 14!!!