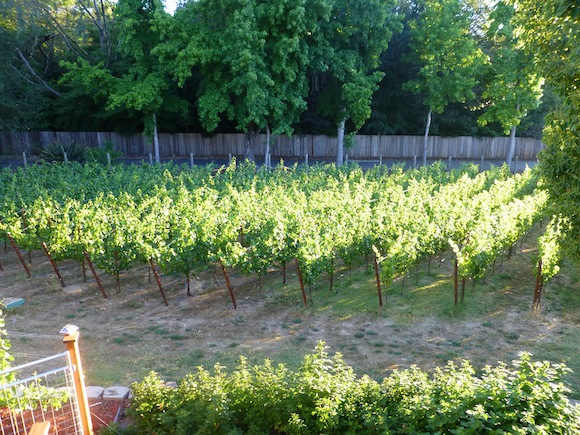 Above is a picture of the closest part of the vineyard to the house. This year the vine canopy is at least 80% filled in this area…next year it will be completely full. The 667 which is away from the house is about 40% full. It is amazing to me when I look back at pictures from 2010 to now and see the difference.
What are Growing Degree Days (GDD)?
It is a measure of the amount of warmth needed to grow plants and if you know what your area is rated for you can determine what to plant and specifically what kind of grapes are suitable for your area.
Easy math…GDD = (high temperature plus low temperature)/2 minus 50. An example…here in Sebastopol the normal for this time of year is 80 for a high, 45 for a low. So…((80+45)/2) – 50 = 12.5 You then add those up for each day during the growing season and you get a calculation for your area.  So for our area when you add the days between April 1 and November 1 you get 2350.  Here is how we compare to other areas.
Williamette Valley = 2150 (Pinot contender)
Burgundy France = 2400 (home of great Pinot)
Sonoma = 2350 (we think the best Pinot in the United States)
Napa = 3280 (good for Cabernet)
St. Helena = 2900 (good for Cabernet)
Olympia, WA = 1595 (good for Geoduck clams but on the borderline low for Pinot, perhaps a colder varietal)
Phoenix, AZ – >7500 (good for cactus)
So if you want to grow grapes, find out your average GDD and then see which grape will grow in that climate.
Lastly…how are we doing this year on GDD's vs the last few years from April 1 to June 15th…or year to date?
2010 564 (very late harvest)
2011 505 (very late harvest)
2012 713 (normal harvest, great grapes)
2013 787 (looks to be an early harvest)