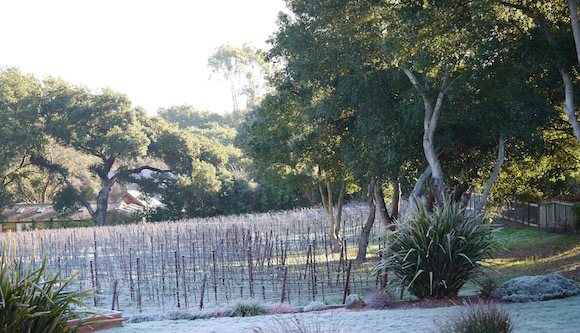 2015 was a remarkable year at Turtle Vines!
– We started the year getting a wonderful review of our 2013 Pinot Noir from The Prince of Pinot.
– Our 2014 Sauvignon Blanc was a hit at Eight Restaurant and sold out!
– We are now selling grapes to Hanzell Vineyards, one of the oldest and most respected Pinot Noir wineries in the United States.
– Mother nature reduced our 2015 grape harvest by 60%, but should produce an amazing vintage!
– We finished the year by having 2 restaurants carry Turtle Vines Pinot Noir on their wine list. Muir's Tea Room here in Sebastopol and Millennium Restaurant in Oakland (the #1 rated Vegetarian restaurant in the World)
– Lastly, we continue to get the love and support from our many friends, family, colleagues and supporters of our vineyard and winery!!!
We hope your 2015 was just as eventful and we wish you a wonderful 2016.