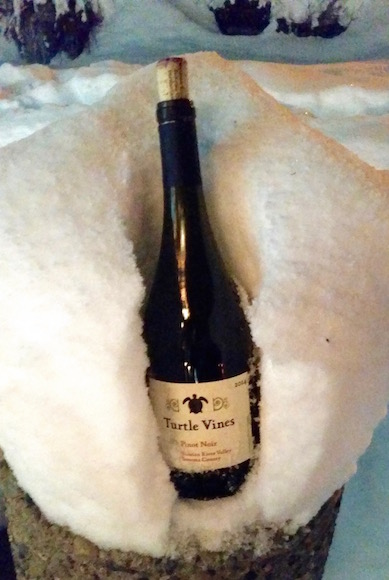 Happy New Year…And a special shout out to Anna and Brian for this wonderful picture of our 2014 Turtle Vines Pinot Noir at Lake Tahoe!!!
Wow, if you read my "2015 Recap" you realize 2015 was a fantastic year.  How to improve upon that?  Here are my goals for 2016
Grow great grapes that turn into great wine!!!
Vineyard
Keep Hanzell Vineyards as a grape purchaser
Drip Epson Salt through the irrigation system between set and harvest to lower the potassium level in the grapes that will lower the pH of the wine
Institue an improved spray program for powdery mildew
Replant 85 weak or missing vines
Graft over 80 Merlot/Chardonnay/Original no-clone vines
Prune trees that shade the vineyard
Outsource more of the vineyard work
Winery
Add another restaurant that sells Turtle Vines to go with Millennium and Muir's Tea Room
Reviews for the 2013 (Pinot Report), 2014 (Prince of Pinot)
Make a small batch of Pinot that can age based on 2015 information